WALKING D-DAY MERCHANDISE
ANYTHING you buy on Amazon through or after clicking these links helps the channel at no extra cost to you.
Pegasus bridge was the first action of D-day and the only operation to go as planned.
One of the 2 American airborne divisions on D-day was the 82nd . "AA" was their arm patch.
Dick Winters own account of D-day and after.
Donald Burgett was 506th A co. Dropped 15 miles from his objective, this is his account of Normandy.
After two months of stalemate, this was the finale.
Hill 112 was a strategic hill to the East of Caen. It was fought over for weeks. Became the Somme of Normandy.
A detailed look at the planning that went into D-day.
The first of a trilogy by Mark Zeuhkle on the canadians in Normandy. This is just the 6th June.
The second of Mark Zeuhkle trilogy. This is from the 7th June.
Taking Caen and advancing on Falaise. The third volume in the trilogy on the D-day and battle of Normandy.
The book from which the HBO series was adapted. Follows easy Co from training to the Eagles nest
Don Malarky's personal account of being with the band of brothers (E Company 506th)
The 29th division moving inland from Omaha beach.
Stories of the 101st in Normandy by Mark Bando the 101st specialist.
More stories of the 101st by MarK Bando
The story of the 3rd battalion 101st 506th in Normandy.
A guide to the action at Merville battery. Taken by 9th para under the orders of LT Col Ottway. Instead of the planned 600 men, he had 150, but succeeded anyway.
The Horsa and Pegasus bridges by Carl Shilleto
D-day by two battle field guides
One of the best Photo/Video cameras under 1000$. In body stabilizer.
GB
GB Anafi Parrot
The Parrot Anafi is bluffing by it's image stability in winds. It can film vertically upwards.
Stop the smartphone shake With the Osmo gimbal.
With 12Gb Ram you're ready for anything.
Indispensible for making apps with Xcode. Includes the great movie App Imovie.
For some apps a greater screen size is more comfortable than a smartphone. You can carry dozens of Kindle books.
A great phone with amazing photo quality.
Less onerous than an IPad but a great tablet.
Keep your data and videos safe in a NAS. You send files to the NAS by your home network or from anywhere.
Adapt your EF lenses to the Eos M.
Filming indoors needs extra lights.
External mic with 19ft of cable.
Wireless mic frees you from the constraints of a cable.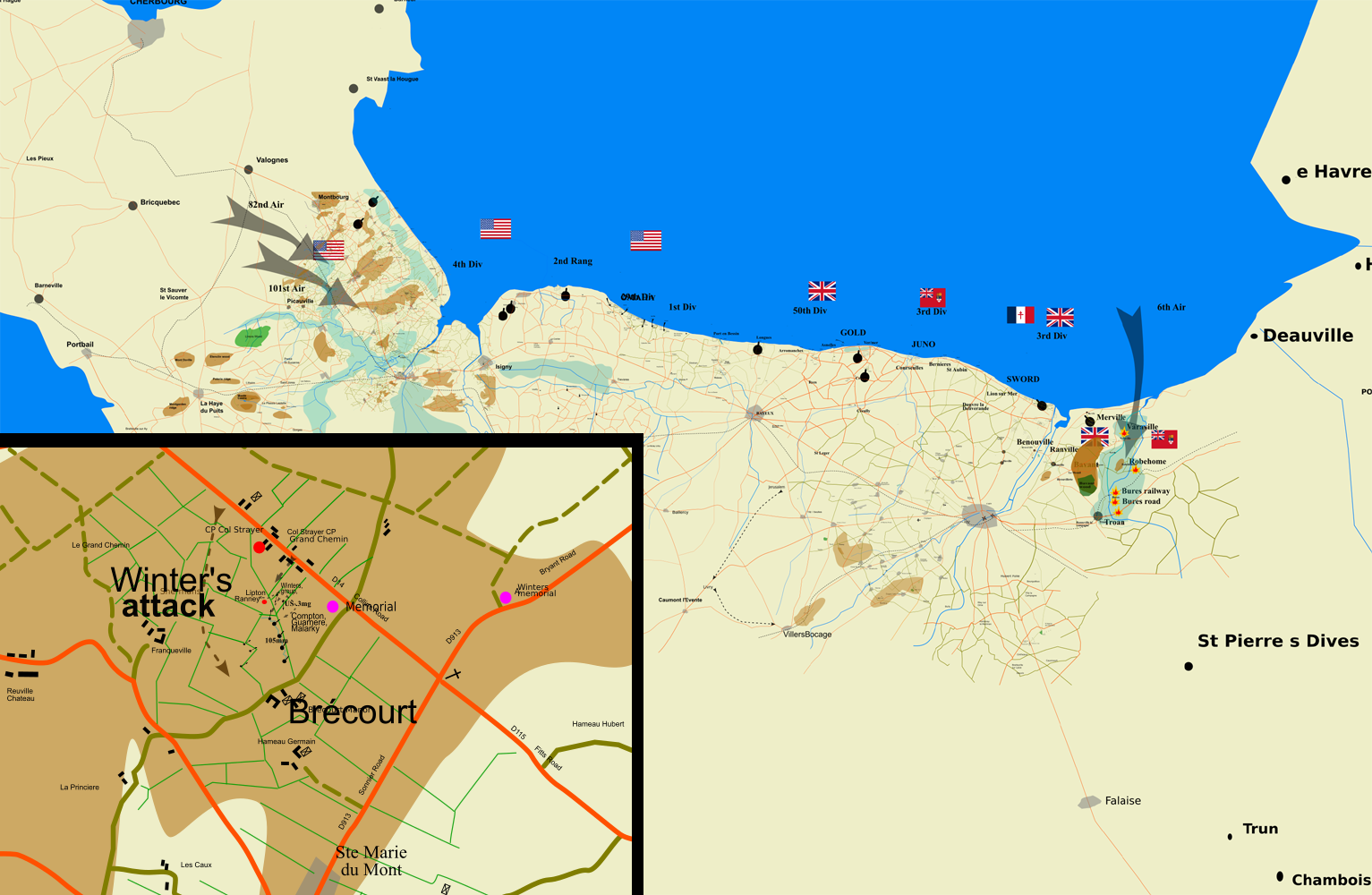 .
D-day self guides _ a guide project in your pocket
.
NEW iPhone - iPad App Bayeux Guide 4.9€ _

_
_ _ _ _ _ _ _ _ _ _ _ _
Band of Brothers map Poster